Short stories are bite-sized works of art that can fill you with emotion, in an instant! They are a real challenge for writers - get it wrong and your reader feels nothing, get it right and you pack a punch that'll never be forgotten. This may be why so many short stories are made into films - Brokeback Mountain, The Birds to name just two.Be at the cutting edge of fiction

, reading and reviewing new short stories

whilst waiting for your felafel wrap, your Oyster card top up or for the end of your dishwasher cycle.

All you need to be one such culture vulture is

the free Kindle app (which you can download from the App Store or Google Play onto any device). Get it, search

Carol Muskoron, and read one of my powerful short stories.

Read tasters of my short stories on this page - short blurbs on the right; longer excerpts below...

---

Anna's getting her supper ready and as she talks to her mum on hands-free, it becomes obvious that her after-supper plans are, unknown to her mother, somewhat sinister

...

'I didn't argue, Anna. I just said to the doctor, "Listen here. How would you like it if you were up all night weeing and had to have a bucket by the bed and a pad in your undies all day?" "It is far from ideal," he says. "Far from ideal?" I said. "You bet it's far from ideal! You've got to sort me out! Those pills you gave me are rubbish! They don't do anything!" Then he went on about exercises I should do with my fanny. Said that childbirth had damaged me down there. Not that I'm blaming you, Anna. You didn't ask to be born. But a woman does make certain sacrifices when she becomes a mother; sacrifices that you - as a single, childless woman - wouldn't understand. And I know I've got arthritis and they say that's why my bones are giving me such jip, but I reckon all that bending over I did when I was changing your nappies, wiping your backside, carrying you and running around after you when you were little have taken their toll. My body's worn out. What I need is a holiday. Are you going away at all?'

Anna looks at the telephone from which the voice has been blaring out at her on hands-free. She is about to say, "No" when the voice continues…

'I fancy that Lasagne-roti. In the Canary Islands. They say you can ride a camel there. And the weather's supposed to be lovely. Only thing I'm concerned about is whether my incontinence pad will show in a swimming costume. Mind you, with everyone sitting around the pool dripping wet, who's going to know if I piss myself, eh? The real problem's money. Next year I won't have to pay for the telly license, which is something to look forward to. Got to be grateful for small mercies. Speaking of which, did I tell you I won twenty five quid on the scratch cards the other day?'

Anna doesn't bother trying to get in a reply this time; she heads to the kitchen instead. It's all open-plan, her flat, so she can still hear her mother as she checks the pasta. Fusilli. She prefers penne but has run out. Fusilli will do. It's almost al dente. The rocket and pine nuts are waiting in a bowl by the hob. The noose is also waiting, hanging a foot or so above Anna's head.

She bought the rope from a boating shop in the West End. Did the salesman know what she was going to do with it? Probably. She doesn't look much like a sailor. They say you can hang yourself with a tie, but back in primary school she'd been hopeless with ties. Her mother's voice changes. It's louder. More insistent. She's asking a question. Anna will have to listen and make a brief reply.

'Well? How are they?'

'Who?'

What do you mean

who

?! I'm asking about your fibroids.

Who

!'

'They're fine thank you, Mum.'

'Fine? How can they be fine?'

'I mean, they give me no trouble.'

'Hmmm. I still think you should have them removed. Should the time come when you want to have a child and give me the grandchild I've longed for all these years, you won't have those nasty growths interfering with things, will you? And I've been thinking about it - I don't reckon you have to tell men about your fibroids – not on the first date.'

Liking it? Buy Hands Free

---

Short blurbs of the
short stories that'll hit
you between the eyes...


On a short visit to Bangkok, Nicola finds herself horny as hell watching a topless dance show, so she goes in search of some

Live Sex

- and she finds it.

---

She's getting on for seventy and she goes on the pull twice a week 'up Lazer City', - but she wasn't always known as

Disco Di.

---

A fast-moving, tragi-comedy dedicated to anyone who has ever had trouble getting to work - take the journey with

The Commuter

if you dare!

---

Anna's cooking and talking on the phone, and it becomes obvious that her after-supper plans are sinister...


---
On a short visit to Bangkok, Nicola finds herself horny as hell watching a topless dance show, so she goes in search of some live sex - and she finds it. Here's an excerpt from this thought-provoking, blatant short story...
'Nicola had never fancied a woman before. But standing in a packed bar room in the heart of Bangkok, surrounded by bronze, all-but naked Thai women, she wanted one. And she knew which one, too.
Most of the girls were thin with fairly small hips and neat breasts. All they wore were tiny g-strings and stickers on their nipples bearing their numbers. Forty four. That was the one Nicola couldn't take her eyes off.
Those tits! They were so big! And she was swinging them with all her might as she danced. She was proud of them – you could see it in her cheeky eyes and her wild grin. Nicola briefly wondered if she'd had implants, but so what if she had? She was still gorgeous! And now, grinning for all she was worth, Forty Four leant back and limbo'd under an imaginary pole, her breasts bouncing hard as she jumped, opening her legs wide, wider and wider still. Was Nicola the only one in the bar who wanted to pull that g-string well out of the way? She doubted it, and a wild pulse throbbed between her legs at the thought of it.
'This 'This place is brilliant!' she said breathlessly.
Jill raised an eyebrow. 'What do you mean?'
'Erm, the atmosphere. The music. People drinking. Girls dancing. It's fun. Horny but harmless, right?'
'Nope. Wrong. The girls are prostitutes and over half of them are HIV positive. Dancing for seedy Westerners might beat working in the paddy fields but you'd probably live longer planting rice.'
Nicola gulped. Forty Four had grabbed Twenty One and was thrusting her groin into her new dance partner, mock-fucking her.
'Nic, you're drooling.'
'No I'm not,' said Nicola, managing to tear her gaze away from the stage, and look instead at her friend.
'You were. Your mouth dropped open.'
'Well, it is quite a sight, isn't it?'
'Yes,' Jill admitted. 'It's a sight you get at home in London too. You just get it a bit more in Bangkok because people are poorer and more of them have to stoop this low.'
Nicola heard what her friend was saying, but the words 'stooping' and 'low' didn't seem at all appropriate to describe Forty Four, gyrating away up there, giving it her all and beaming at her audience all the while.
'Is she that great an actress?' blurted Nic, staring unashamedly up at the stage again.
'Who?'
'Forty Four?'
'They're all actresses, Nic. None of them are up there because they want to be.'
'Well Forty Four should be up for an Oscar, don't you think?'
'Rubbish, you're just impressed because she's got bigger boobs than the others.'
'She is well endowed,' admitted Nicola, 'But it's not just that. Look at her - she's into it!'
Liking it? Buy Live Sex
---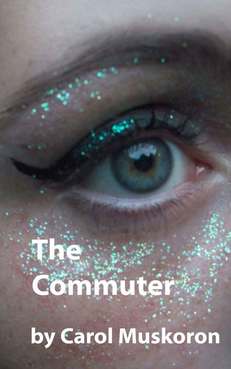 A fast-moving, tragi-comedy dedicated to anyone who has ever had trouble getting to work - take the journey if you dare! Here's an excerpt from this thought-provoking, blatant short story...
' Where's that bloody mobile phone? Might be in the kitchen. Got to find it. Got to chase the estate agent. Got to call on the train. Won't have time once she gets to work. Won't have time for a lunchbreak, so can't call then. Won't be able to look for another job until she's got the mortgage. Will be stuck in that God-awful open-plan office where a personal call is never personal, and with all those smiling executives, who'd as soon stab you in the back as buy you a café latte.
Phone's not in front pocket of bag - looks around blindly for it, thrashes through bag contents frantically. Thinks of bunking off. Could she have a tummy upset? Had one two weeks ago. Faked flu the week before that. Could try a migraine but not sure of the symptoms. Blindness? Seeing stars? Both? Oh, forget the bunking. She's going in. Can't have a dodgy absence record. Got to keep this job 'til she gets the mortgage. Got to chase the building society. Got to call them on the train too. Got to find that bloody mobile phone! Got to get to work!!
Takes deep breath and checks clock on microwave. 09.20. She's going to be late. And her colleagues hate her being late. Don't actually say so but they don't ever look up when she walks in with her head down and slips her coat onto the back of the chair. 'Train trouble,' she mumbles to no one in particular. And no one in particular answers with a sniff here, a cough there. Never any eye contact until she's taken her seat. They're angry, see. Angry that she can never,
ever
make it in on time. What
is
her problem? It's not as if she's got kids to drop off, like Angela. Or a sick husband to sort out, like Jill. No. She just can't be bothered to make the effort like everybody else, can she? Thinks she's different. Well, she is different – different to them, at least. She's 37 and single – and it's bloody hard having no one to share all the tasks of life with; having no one to blame when things things – like the phone – go missing.
Dashes to bedroom. Glances at bedside clock. 09.22. Casts eye around room - mobile phone not immediately visible. Checks under bed. Nothing. Runs to lounge. Checks on top of TV. It's not there. Quick feel under sofa pillows. Nada. Back to kitchen. Maybe she missed it the first time. This is ridiculous. Where's the bloody mobile… Phone! Got it! Was in her bag all along. Keys? Yes. Purse? Yes!
Heads for front door, sweating. Wonders: why is she wearing tights in June? Remembers: hasn't waxed legs – calves look like avocado flesh streaked with stringy mould. Wonders: is it better to arrive at work stinking and only as late as usual, or not stinking and even later than usual? Checks watch: 09.23. Rushes to bathroom. Grabs salon-style waxing strips – might be seeing ex-boyfriend tonight. Can do legs quickly in the loo at work before going off to meet him. Might end up in bed together. Might fall in love with him again and end up tying the knot and having a family together. Be nice not to die alone and childless.'
Liking it? Buy The Commuter
---
She's getting on for seventy and she goes on the pull twice a week 'up Lazer City', - but she wasn't always known as Disco Di. Here's an excerpt from this thought-provoking, blatant short story...
'I've always liked sex. I remember the first time I got hot between the legs - must have been fifty years ago – best feeling in the world. Me and Perry Jones up against a tree behind the King's Head in Stoke Newington.
I could only get the barman to serve me lemonade but Perry'd poured some of his bitter into my glass. When he asked me if I wanted to go for a walk, I thought I'd die of happiness. Off we went together, his arm round my shoulder, and all my mates beaming at me.
We walked up the road, me as snug as a bug tucked under his armpit, and when we got to the tree he stopped. And he kissed me. Full on. My knees went so weak that I swear if that tree hadn't been there I'd have fallen over. Next his thing was digging into my belly and his hand was up my skirt. He was only rubbing me on the outside of knicks, but I felt like I was boiling over. And I didn't want him to stop rubbing, ever.
I had a bit of pride though – didn't let him go all the way then and there. Must have been the first and only time I ever held back. And all week long after that I was rubbing myself – in the bath, in the toilet at school, whenever I got the chance my hand was at my fanny.
'Di! Supper's ready! Di? Where are you?' Every night that week I was late down to eat. Drove my mum mad it did, while I was upstairs under the bed covers, imagining my hand was Perry's, feeling my few sparse hairs and all that glorious wetness. Where did it all come from, I wanted to know.
I lost my virginity to Perry the next week, up against the same tree after closing time. I was so wet it didn't hurt a bit. And me and him did it on and off for years after that. I just couldn't get enough. Plus, once Perry'd opened the floodgates, I was letting other fellas in too. Fucking was my thing – no two ways about it.
I'm sixty three now and I'm still getting it, not from Perry or my hubbie, mind. My Alf died fifteen years ago. I did without sex for five years after he went, but it's good to be at it again. No meal to beat it, is there - even one served at The Hilton out of silver pots and under the poshest candelabras. Give me a fuck over all that any day.
I go up the disco twice a week – loads of good lookers up there. Never any other oldies but who cares. If they want to sit out the rest of their lives getting value for money out of their telly licences, that's up to them. Me? I'm going to dance 'til I drop, and shag as many blokes as I can get my hands on. Most fellas really want the young ones of course, but young ones are harder to get than me. I'm easy. I let the fellas know it, too. Offered one a blow job while we were all standing in the queue waiting to get in the other week. He wasn't interested, but his friend was up for it later.
'Course, they don't always want to go the whole way. Sometimes I get a snog, or I might get my tits felt up. And if no one's interested I just have a good old dance; next best thing to a fuck, a dance is. But lots of them will go for the fuck if you promise you won't tell anyone. Fine by me. Everyone knows Disco Di gets it - they're just not sure who from.
Thing is, I still look something. Anne French and Nivea – I swear by them. I can pass for forty once I've done my make-up. My hair's bright blonde; classy little bob, I've got. My cheekbones are good – they count for a lot when you're older. And I've still got my figure – slim pins, big bouncy tits. I dress up all sexy – I love a see-through blouse, a short skirt, high heels. And I tell blokes how experienced I am. 'I could make you come in two minutes flat,' I say. They love a woman who knows what she's doing.'
Liking it?
Buy Disco Di
---