I was finding chapter four of my latest novel hard to get through today. And the major distraction was a parrot costume which a work colleague had sent me the link to - she was going to a fancy dress party but she didn't opt for this costume. I couldn't for the life of my understand why not. I didn't have a fancy dress party to go to, but I'd never seen such a perfect thing. An all-in-one wonder. Step into it and you were 100 per cent parrot. I did question how you'd hold a drink with those wings, but I told myself that was a technicality. I wanted that costume!

I managed to ignore the craving for most of the week and then today, when I was supposed to be writing,I found myself thinking 'parrot costume' and clicking on the link again - but now the page said 'Hurry! Only 1 left in stock!'. Oh no! I tweeted about my craving, wondering if anyone out there would understand, and a friend said, 'Buy it now!' but I wasn't sure. Gorgeous though the thing looked, I wondered if it would flatter me. Would I look attractive in it?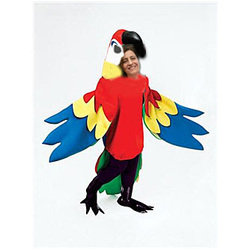 I showed the link to my husband when he came in - I explained how taken I was with it, and asked if he thought I should buy it. After all, what would I wear it to? 'Oh, we've missed National Parrot Day! What a shame!' he said, which I didn't find very helpful.
And then I had an idea: if I finished Chapter Four I would reward myself by buying the parrot costume. I worked so hard - it was honestly like wading through treacle - and now that I've finally finished the chapter I'm shattered. Too shattered to make such a big fashion decision. But I treated myself to Photoshopping my head into the costume to see just how it would look on me. What do you think? I think I look kind of nice in it.
Bye for now
Carol
PS
My novel, Not Middlemarch, was written without the inspiration of parrots, but I don't think it suffered.